House hunting in the winter has several advantages, such as decreased competition for properties and the chance to properly assess a home's heating system. Plus, you might even find a seller so overcome by eggnog and holiday cheer that they offer you an amazing deal.
But there's an even bigger and simpler reason to consider waiting until the weather cools before you buy a home: It's cheaper.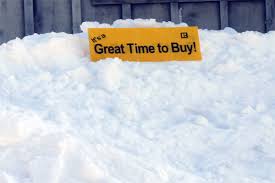 Research has shown that those who buy at the peak of the market (April and May) can expect to pay a premium of $1,500 on average. Houses listed in December, on the other hand, sell for $3,100 less than average.
Unsurprisingly, the big guns of the housing industry recognize this trend. Lawrence Yun, chief economist for the National Association of Realtors, points out, "Year after year, closings in January tend to show a dip in prices, suggesting that buyers who made offers in November and December got the best deals." As an example, Yun says, "In the summer of 2014, median home prices climbed past $220,000, only to drop below $200,000 in January of 2015."
Another advantage of shopping in the winter is illuminated by something called the "too much choice effect" or the "paradox of choice." This is when "an overabundance of options eventually leads to negative consequences, such as a diminished motivation to choose any option or a decreased satisfaction with the finally chosen alternative."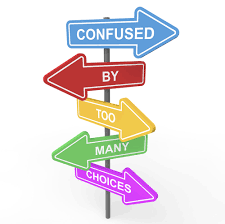 Having too many options – even when it comes to minor choices, like what to have for lunch or what to watch on Netflix – can leave us feeling overwhelmed or making rushed decisions. And in the end we're more likely to regret our choice as we reflect on all the other options and wonder, "What if?"
Shopping in the winter could also help you avoid falling into the "hedonic adaptation" trap. This refers to the mechanism by which people rapidly get used to changes and revert back to a base level of happiness.
In essence, even if you do find your dream home in the spring bonanza, it won't make you happy for very long. We think the extra square footage and walk-in closet will make us happy, but in the long run, they won't. So instead of holding out for a dream home – or worse, overspending for one — you're better off being realistic about what you need, and finding something within your budget. And it'll be easier to find something affordable outside of the peak real estate season.
In the end, though, only you know which tradeoffs make sense for your family. No one should rush into a major purchase just because they're trying to take advantage of a small seasonal discount. It's important to do thorough research and to see a lot of places, if only to get a better feel for the market, as this is a purchase you might be living with (and in) for 30 years or more.
It could be worth the extra thousand bucks or more to get a house in the spring if you're certain it's the perfect fit.
(This is an excerpt from TheSimpleDollar.com article by Drew Housman)
If you need to buy or are thinking about buying a new home this winter, call me and let's talk about it!